The Witches Sabbat Collection
Testimonials
I love this oil! It is so beautiful and it works in a phenomenal way!

Bizhiw
I love everything from this shop! The real deal testimony is that this works.

Natalie
I've now bought several oils (and have another on the way) and these oils are just exceptional! I am a witch and live in an area where getting high quality things for my craft can be challenging so I am thrilled to have these! I absolutely would recommend these and will be buying regularly!💜

Shannon
Everything smells AMAZING! I could feel the power and strength in the oils and balm as soon as I unwrapped them. 

Amber H.
I'm a repeat customer and if you aren't already, you will be. I purchased this to play a part of cleansing and blessing my new home. It is so versatile. I used it in my paint for the walls, anoint on my body when I feel like I need a boost, and as a part of jar/bottle spells. And it smells AMAZEBALLS. A warm, cinnamon-y clove-ish blend that definitely packs a punch. Can't wait to use it in other things!

Kate C.
I love this product! I used it as a central part of a ritual for cleansing and blessing my new home and it was perfect. It had a very light scent, but you could still detect it. It was fresh and clean and beautiful. I could feel the prosperous and protective energy. Plus it made my hardwood floors sparkle like the night sky! Will def be getting more! Thanks, Clarissa!

Katherine E.
Superior Louisiana Van Van Oil. Quality customer service and packaging, Thank you!

David
It's been awhile since I bought this product, and I'm glad I waited to leave a honest review. Personally, since I started using this oil (Glamour Magick) I've been feeling a lot more confident in myself. Had a lot of days where I looked in the mirror and didn't like what I saw, but now I legitimately feel super attractive and I'm putting in more effort to take care and enhance my features. I feel very beautiful and now I'm actually grasping what makes me feel beautiful. Thank you so much, obviously I'll be buying from you again.

Alejandra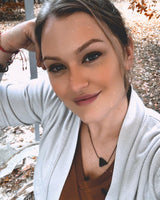 Meet the Creator Behind MBV
The daydream of Midnight by Verbena began during the 2008 recession.
Fresh out of high school without any resources or opportunities, I longed
for a connection to a self-sustainable way of living alongside the seasonal
rhythms of nature. A way to create something creatively nourishing yet
spiritually fulfilling. In 2018 I was finally able to quit my mundane job and begin
cultivating MBV.
I firmly believe that when you work towards healing
yourself, you pave the way for others to do the same work for themselves. Midnight
by Verbena is an invitation to slow down in a world that moves too fast. It's a
love letter to my Appalachian ancestors.
Without their determination to overcome + survive, I
wouldn't be here. It's my life's purpose to share their generational knowledge
of herbal + folk remedies to others in hopes that it changes their life just as
it has changed mine.
Book your Session Here